Take UX to the next level in your Hololens applications
Infinite Touch introduces a new way for users to interact with your AR content: touching. Now, any item in your Hololens application can be interacted with by simply pointing at it with your finger. This opens a whole new set of possibilities, from advanced input capabilities and simple browsing of menu structures to point and execute functionality. All you need to do is adding Infinite Touch in your Unity3D environment and you're ready to rock!
A game developed by Ludocraft is one of the first applications built on Infinite Touch. Users can click menu buttons and change plane's flying directions with simple pointing gestures, as shown in the video below:
A sample Unity3D application for getting started with Infinite Touch is available in our github. Documentation can be accessed in our knowledge base.
Note: in order to use Infinite Touch on Hololens devices, you must first install Windows 10 April 2018 Update or later. Also, you will need to enable Research mode; otherwise Unity3D applications won't be able to access built-in Time-of-Flight camera needed for 3D finger interaction.
To get started, contact us at sales(at)augumenta.com for a price quote and details for purchasing the tool.
Please notice, Infinite Touch licenses are created for a single application; if you want to use Infinite Touch in multiple Hololens applications, you need to buy a license for each of them. During the purchasing process you will be asked to input the application name as it's entered in Unity3D. Please pay close attention to this, as the name cannot be changed once the license has been created. Please refer to our knowledge base article for mode details.
---
"What about Android devices?" we hear you ask. Worry not! Infinite Touch, just like all Augumenta products, is device agnostic and will be released for Android in the near future. Most Android devices don't ship with an integrated ToF camera today, so we're working together with PMDtec to create a bundle of their excellent Pico Flexx ToF camera module and a mounting bracket that makes the camera sit on top of your favorite Android smartglasses. On the ODG R-9, it looks like this: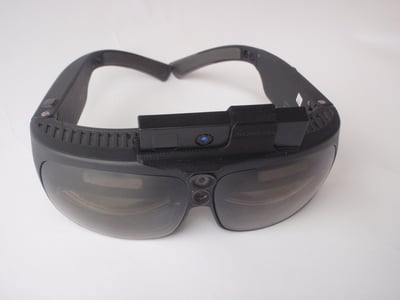 The easiest way to stay up-to-date with our upcoming product announcements is signing up to our newsletter below.